Blog Archives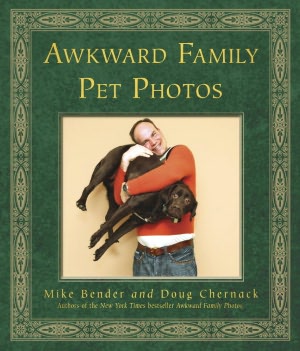 Authors: Mike Bender and Doug Chernack
Publisher: Crown Publishing
Non fiction, 176 pages
Source: Netgalley
About the Book:

There are few things more rewarding than having a pet. They love us unconditionally, shower us with attention, and because of them, we actually live longer. So, what can possibly be awkward about our animal BFFs? Well . . . nothing. In fact, we're the awkward ones. We adore our pets, but let's face it—sometimes L-O-V-E makes us go a little overboard. Like giving them middle names, throwing them elaborate birthday parties, and making them a Christmas sweater to match with the rest of the family. Truth is, what they cherish most is our companionship. And maybe that's the reason we care about them so much—because for such simple pleasures, they allow us to be as awkward as we want.
My Two Cents:
I enjoyed this book.  I am an animal lover, cats are of course my favorite pet but I love them all.  I enjoy looking at pictures as well.  So combine the love of animals and the interest in looking at peoples pictures and you have a win, win for me.
This is not just your everyday dog and cat photos.  These are family photos that include the human part of the family as well.  We have snakes, pigs, monkeys, and horses just to name a few.  Some are dressed, some are posed but all are just a bit out there in my opinion but enjoyable to look at and laugh at.  I wondered many times while reading this book if these people meant for these pictures to be funny or if there were serious.
Example 1:
I do believe that is a monkey and one that does not look too happy.  Was this a Christmas card?  LOL
  Example 2
Huh?
Those pics are courtesy of Amazon and are just a tease of what you will find in the book.  I wish the explanations of the pictures were a little more informative but I suppose they do speak for themselves.  It is a fun book that will bring a smile to your face.
Dukan Day 9 Read the rest of this entry →