Blog Archives
I was trying not so hard to stay away from signing up for challenges.  Guess what?  I signed up.  I guess you can say it's Novel Challenge fault for listing them all.  Yeah, that works.  I really did try to keep it under control and doable this year.
Here are my 2012 Challenges…… Click on any of the badges to go to the challenge site and sign up.
 This baby was created just for me!  Actually not but it should have been.  There is nothing I love more than a good serial killer be it fiction or non fiction.  Hmmmm, makes me sound like a bit of an off person doesn't it?  Wanna join us?
Another goodie, the Mammoth Book Challenge.  This is any book 450 pages or over.  These too are my favorite kind.
I am choosing Level 3 =Read 6 mammoths!
Mystery and Suspense Challenge
Our good friend Book Chick City is hosting another goodie!  This of course can cross over into both of the above challenges if it wanted to.  In order to keep it real, I choose Level 1= 12 books.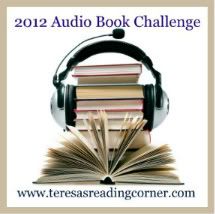 I also love audio books.  I listen to them a lot at work and while I crochet.  I choose Level Lover=25 audio books.

This challenge is a great one and I did pretty good last year. Then life jumped up and bit my badorkus and I fell off the edge of the world. (That sounds better than screwed up doesn't it?) I am jumping in again this year.
That's all, that's enough and I do believe it's all doable!  Good luck to me.  I will update my progress in the CHALLENGES 2012 pages at the top of my blog.
What challenges roped you in for 2012?
Related articles